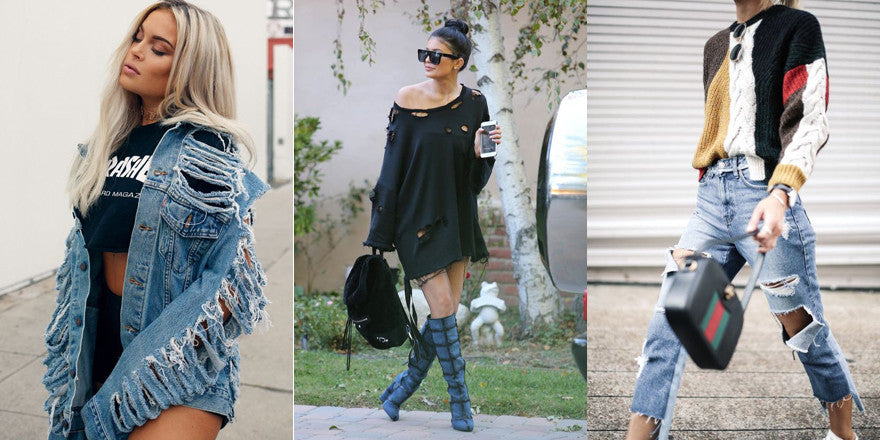 There's something special about rocking a distressed clothing trend.
Because we don't hide anymore,
We show off by these distressed trends.
Distressed Jeans, Distressed Jackets, Distressed Tops, Distressed Dresses, 
Distressed EVERYWHERE.
Why is everyone wearing ripped jeans?
-Because we don't like boring stuff anymore!
Here are some tips how you can wear them - Bring this to death!
Because you will never get bored of these style (=
There are tooooo many types of jeans:
Bootcut, Boyfriend, Skinny, Slim Fit, Straight Cut, Low-Rise, Mid-Rise, High-Rise, etc.
AND ALSO
There are too many distressed styles:
It can be ripped on thigh, knee, calf, or anywhere.
.
Tops that match to these jeans?
 Simple graphic tees + tanks, bodysuits, crop tops, off-the-shoulder tops, shirts + blouses, jacket/cardigans,...
Basically anything would look good with denim style.
.
Cold legs? But worth it! 
.
Now, I GUARANTEE that you have seen these types of styles while you were doing social media. 
FISHNET TIGHTS + DISTRESSED DENIM
It is not just for Halloween anymore.
Wear your tights under your jeans for an added layer of warmth.
"It keeps you feeling warm, but it also keeps you looking cool."
.
 Lastly, it is time for your distressed top, dress, and jacket. 
Distressed Top - simply show off your skin to show your sexiness. Not just for hip-hop anymore, but also for your casualty everyday!
Distressed Dress - Kylie Jenner killed it. As summer comes, everything is made to get cool air. Mesh,Distressed, Destroyed and Frayed. One-piece describes everything how cool you are.
Distressed Jacket - Camouflage & Denim are the main two. These distressed jacket on top of anything you wear. Vintage has been arrived! 
Now it is time for you to get distressed! 
.
edgeLook will help you right here.