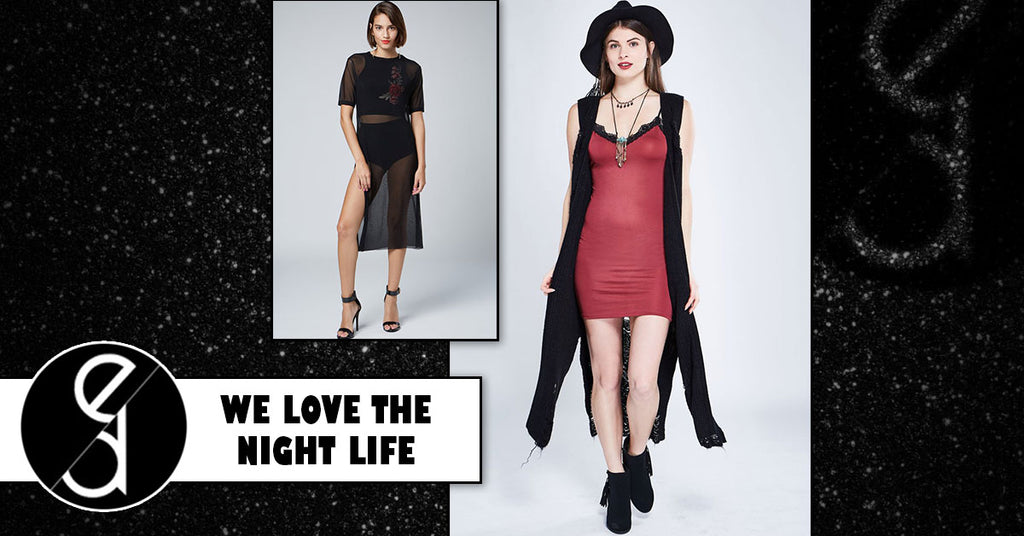 Dressing up for a night out requires special attention to detail.
Yes, you need to arm yourself with the best going-out dress.
But you also need to coordinate jewelry, handbags, underthings, and makeup.
To spark some inspiration for the perfect look for your special night out, we've come up with some tips (JUST 4 U)! 
We, edgeLook have hundreds of possibilities for your night out, from girls' night out dresses to going-out bodysuits to see-through night dresses.
Shop for the best looks online at edgeLook! 
1) Start With Your Outfit
The outfit you choose is the basis for everything else you wear, so choose it carefully.
Start with the

occasion

!
Are you headed out solo for a night that's just as spontaneous as you?
How about ladies' night at your favorite wine club? Or a date with a special someone?
Choose a dress that makes you feel the most confident in the situation.
It's daring and feminine while exuding elegance with the slim cut and embroidered floral design.
Just Like This.
It's versatile, which we love.
Layer it with a floor-length cardigan and a hat for a casual-yet-sexy boho look.
Or wear it with minimalist jewelry for a look that's show-stopping.
2) Coordinate your jewelry
Jewelry can completely transform whatever outfit you're wearing.
 The beauty of jewelry is that it can modify your look no matter what the occasion.
You can wear an LBD for just about every occasion and use your jewelry to set the tone!
3) Don't Forget Handbag! 
Even if you just dropped a pretty penny on a designer purse, it doesn't mean you can wear it with everything.
A night out on the town calls for a very special style of purse that's just big enough to hold your essentials, but not so big that it's going to bump everyone when you're squeezed into a club.
One of our most versatile clutches is the Reflective Metallic Clutch, which comes in
pink
and
silver
.
Metallics go with everything and look just as great with your see-through night dress as they do with boyfriend jeans and a graphic tee.
No matter what going-out look you're looking for,
Shop online today!