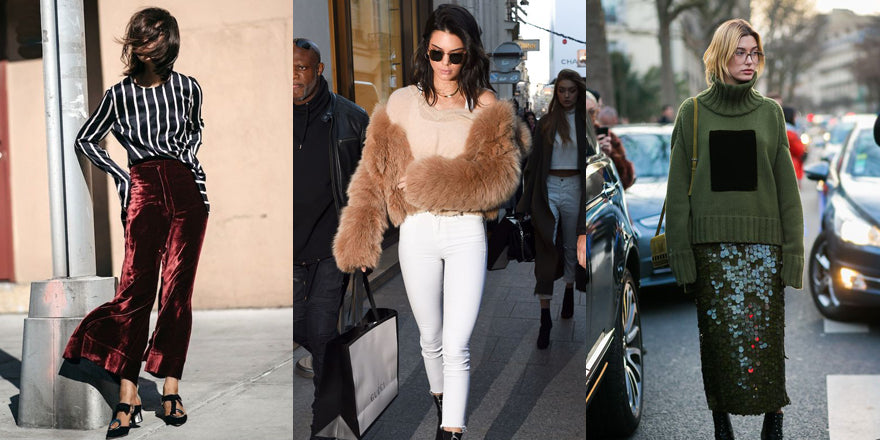 It is another cold season! 
& Temperatures don't lie.
We already are looking at
50s - 60s
.
Now, it is a time for us to search for appropriate Fall & Winter clothing to win this cold weather.
It is funny that in Summer, you were waiting for Winter to come faster.
Then in Winter, you are waiting for summer to come faster. 
How mysterious are we? 
"In the depth of winter I finally learned that there was in me an invincible summer."
- Albert Camus 
To stay awake in this cold weather, for sure you need COZY SWEATERS. 
What color? Any color!
Oversized sweaters are on FIRE
Whoever said sizes don't matter - don't know how trendy these sweaters are!
These oversized sweaters caused instinct to protect.
You can pair these with anything - wide pants, skinny jeans, boots, mini/midi/maxi skirts.
It is officially VELVET-wanted season! 
It is time to feel those soft-touch while wearing them.
The main key - Tone on Tone.
In Old days, majority of people were wearing different colors of top and bottom.
But in 2017, one color of two-piece or three-piece is HEATIN' UP!
There is just too many options of velvet these days you can choose from! 
I don't think it is too heavy to carry your OUTER all day! 
It is totally unfair that the 50% of your summer clothes from your closet is just hanging there for nothing.
Those are just for that 3 months out of the year & I am here to make that 12 out of 12
You wear cold inside to appeal and warm outside to survive!
In Winter, I know you want to stay inside and enjoy a cup of coffee/tea.
So take of your outer and have fun.
LONGLINE CARDIGANS ridiculously are COZY & WARM. 
These are comfy, useful, warm and daily.
Basic style of long cardigans match well with denim to look casual.
Patterned cardigans match well with simple inner wear being stable.
Length tells you everything. 
Western boots were born to wear with these types of long cardigans !
 .
.
.
.
Go ahead and shop your latest trends of cozy and warm items below.